👉🏻 Free Marketplace
1. Free Marketplace – this service is 'Completely' Free to you!
2. Click on "Hire Developer" and fill a simple drop-down menu-driven Form/ Template to publish your Requirement (Project). It would automatically, become visible to all Registered Developers/ Freelancers and a mail would also be sent to all of them.
3. There is no limit on the number of Projects or the Time for which, you can publish Projects. You would be prompted to Register as an Employer (again Free), if not already done so, after submitting the Form.

👉🏻 Selecting Developer

4. Interested Developers/ Freelancers would quote for your Project mentioning Tentative Milestones with respective Price and Duration.
5. Vet quotes from 'Interested Freelancers' in your 'My Projects' Dashboard. You may also browse Profiles of other Developers/ Freelancers and send them your exclusive 'Invite' to quote.
6. Analyse profiles of all Developers, their past work, Ratings, Qualifications & Certifications. Shortlist them by tagging them as Favourites.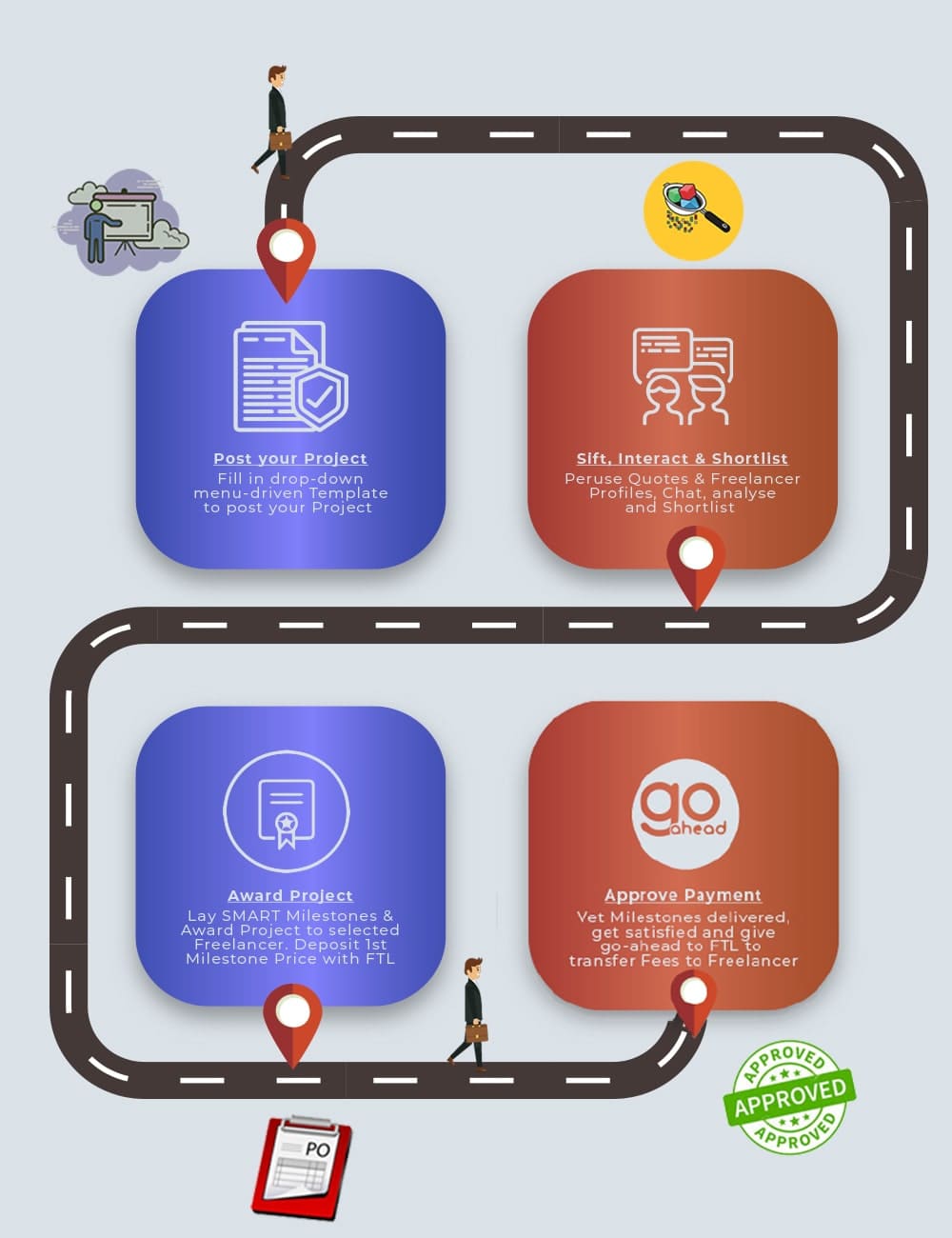 👉🏻 Chat, Select & Hire

7. This Online Marketplace has an integrated Text & Audio/ Video Chat Platform. Chat with each one of them, discuss Project, get convinced and finalise the Developer.
8. Award Project to the Finalised Developer/ Freelancer and lay SMART Milestones. You would be prompted to deposit Price of the 1st Milestone. Don't worry, your payment is safe with us and does not get paid to the Developer, till you give an Exclusive go-ahead to us, to do so.
9. On successful payment, Receipt would be automatically generated & mailed to you with all our Tax/ GST/ Statutory details.

👉🏻 Project Delivery

10. Collaborate, monitor & vet the Milestone delivery by the Developer/ Freelancer. Once satisfied by the delivery, give us your exclusive go-ahead to release payment to the Developer/ Freelancer for this Milestone (in your 'My Projects' Dashboard, open 'WIP Projects' Tile & click on 'Approve Payment'). Your payment is safe with us till you give us your Exclusive go-ahead.
11. You would then be prompted to make payment for the 2nd Milestone.
12. Above process gets repeated till all Milestones of the Project are delivered. We will mail details of all Transactions and you can also see the same in your Dashboard (My Projects)
13. Please read FAQs to get more details

👉🏻 Get Going

14. So, why wait, start Saving your Project cost Hire Developer